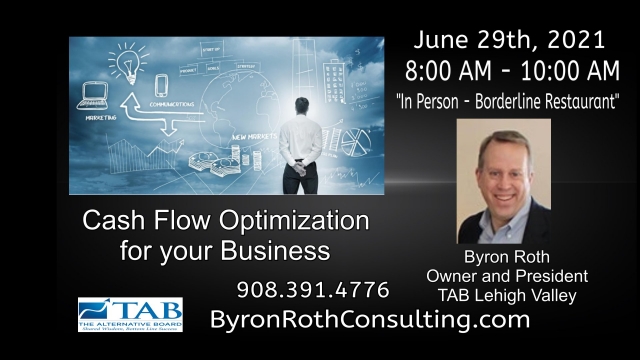 Business coach and consultant Byron Roth will be hosting his next business roundtable series on Business Cashflow Optimization. The event will be held in person on Friday, June 29th from 8:00-10:00 AM. Business owners and leaders in the Lehigh Valley are invited to join this latest roundtable event. The session will be moderated by business consultant Byron Roth who is the principal of The Alternative Board in the Lehigh Valley. Byron will be joined by Dan Bobick of MoneyWorks Financial Coaching to discuss the optimization of business cashflow.
According to statistics compiled by Roth, a recent study has shown 50% of small businesses fail and shut down within the first 5 years of starting out, and 82% of those businesses failed due to cash flow issues. Business owners are constantly focused on finding customers, delivering product, managing expenses, and dealing with critical issues daily, but not on cash flow.
According to Coach Roth, some questions business leaders should be asking themselves are the following. "How often are you caught by surprise when you see the bank statement or have to utilize your line of credit? Is cash flow a critical metric you measure, or something that you react to? Do you plan your expenditures and thoughtfully consider those expenditures and the value to your product delivery? These are all important things to consider when it comes to business cashflow."
Roth relayed the following regarding the current market conditions, "People and the businesses they work for generally serve customers to earn profit. As mid year 2021 quickly approaches, things are re-opening after more than a year of Covid-19 shutdowns. Businesses should be poised to grow and capture new opportunities. Expanding a business requires cash. Long term business success does not require an obsession with cash-flow, but it does require strategic management and control of how business cash is spent, and monitoring the progress of collecting on receivables."
Business owners and leaders are invited to participate on June 29th to discuss fundamental strategies to manage business cash flow effectively. The roundtable event will include a time of group learning and open discussion.
This roundtable is open to all business leaders and owners interested in developing and improving their business cashflow strategies and facing the challenges of the ever changing marketplace. Those looking to learn more about Byron Roth, business roundtables, and advisory boards in the Lehigh Valley can watch this linked video on Youtube for more information.
To RSVP, ask questions, and register for the roundtable, please contact Byron Roth Lehigh Valley Business Coach and Consultant at 908-391-4776. Direct online registration is available on the business cashflow optimization page of Byron Roth Consulting.
Byron Roth Consulting – TAB Lehigh Valley
Byron Roth Consulting – TAB Lehigh Valley
https://byronrothconsulting.com
broth@tablehighvalley.com
+1-908-391-4776
1842 Kenmore Ave
Bethlehem
United States
COMTEX_388668676/2764/2021-06-22T09:35:07
Disclaimer: The views, suggestions, and opinions expressed here are the sole responsibility of the experts. No Chicago Headlines journalist was involved in the writing and production of this article.