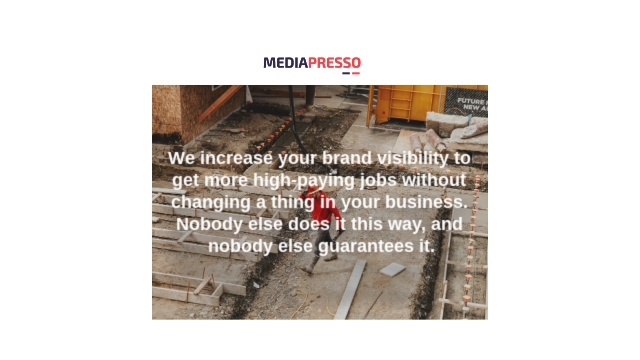 MediaPresso, a digital marketing agency, has announced the launch of its updated local lead generation services. The company developed its marketing services in response to the dominance of digital channels by large corporations.
More information is available at https://www.mediapresso.io
The launch of the updated lead generation services aims to help small and medium-sized businesses improve brand awareness, attract new customers, and increase revenue.
Ruben Alvarez, the company's founder, understands the plight of small business owners. As a Growth Specialist, he often sees small businesses employ suboptimal marketing strategies that prevent them from reaching their growth goals.
Though they are vastly outmatched in resources, many entrepreneurs make the mistake of trying to outrank large corporations in a head-to-head showdown. Alvarez avoids competition with industry giants and gets his clients the exposure they need by taking an alternative, locally targeted approach to marketing.
The company begins its marketing efforts with in-depth competitor and market research. In this process, MediaPresso's team identifies opportunities in clients' local markets and develops a marketing strategy based on their research.
The strategy consists of a multimedia content marketing approach. Blog posts, podcasts, slideshows, and video content are created to give client businesses maximum exposure. The company hosts this engaging content on high-authority sites across the web, which drives traffic to client sites and improves their rankings in Google search results.
MediaPresso takes an evidence-based approach to marketing, so their efforts produce results in as little as 30 days. Within 6 months, clients can expect to rank in the top 3 search results for their local product or service. As 88% of locally targeted searches result in a call or visit to a local business, ranking highly in local results has a large impact.
A spokesperson for the company said: "The dream of the internet was that anyone with a good message could be heard. Here at MediaPresso, we aim to help level the playing field so your business can get your message out there and be seen without having to do the work yourself."
Interested parties can connect with Ruben Alvarez directly at https://www.linkedin.com/in/ruben-alvarez-barrera
MediaPresso
MediaPresso
https://www.mediapresso.io
68 Lutticher Strasse
Koln
Germany
COMTEX_388357451/2764/2021-06-16T03:44:54
Disclaimer: The views, suggestions, and opinions expressed here are the sole responsibility of the experts. No Chicago Headlines journalist was involved in the writing and production of this article.